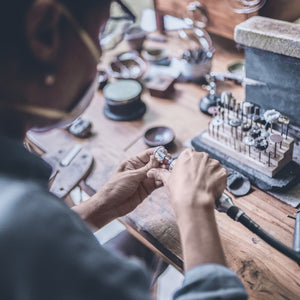 How it's made
All MaterialMaya jewelry is crafted by me in Portugal with these bare hands, open fire, dozens of hand tools and oldest methods in a tiny home studio.
The whole process (melting, forming, hammering, cutting, stamping, soldering, filing and polishing) is still a pure magic for myself and I love every second of it. You will buy a bench-made precious metal work which is not like any mass production soulless jewelry. Remember, every handmade item will always remain a unique piece of art, made according to the best recipe: take a story, catch an idea, use skills and experience, put hours or days of work and most importantly - add love for creation. 
Packaging
Every order I carefully pack in a hand carved wooden box made by balinese masters. Jewelry pieces are wrapped in an origami envelope from special anti tarnish paper. Each has its own tag with the name and materials. Also they come with a polishing pad for you to keep your jewelry shiny and fresh looking.